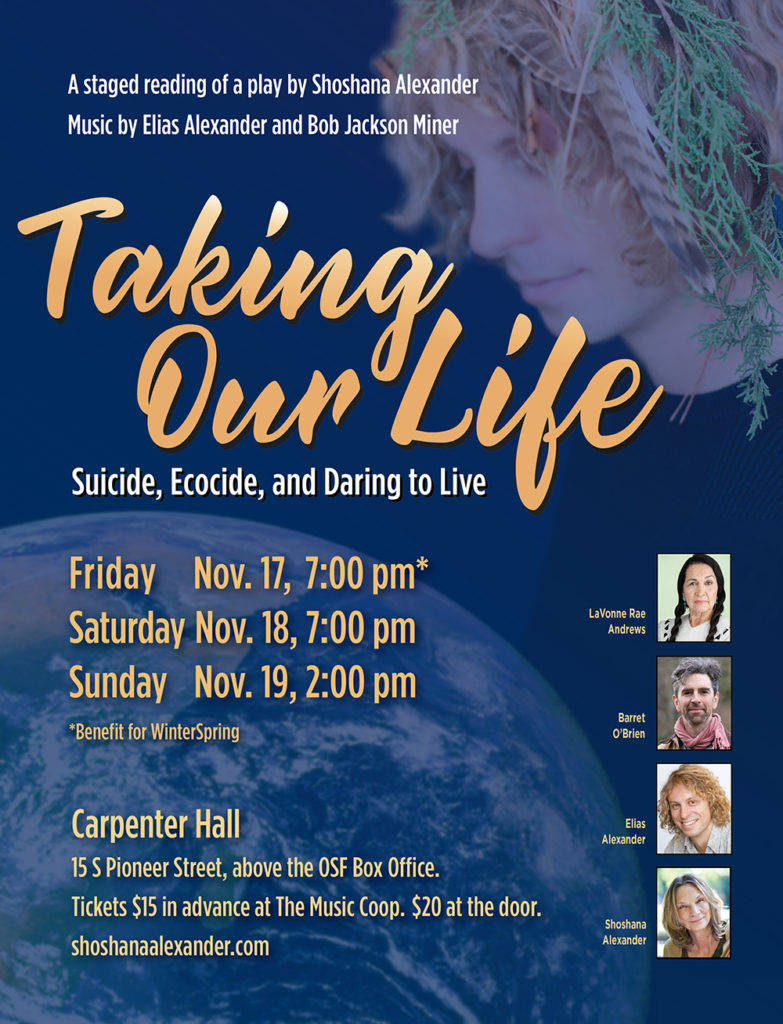 Taking Our Life

Suicide, Ecocide, and Daring to Live
Taking Our Life is a new play that deals with themes of suicide and ecocide. It will be launched with a staged reading on November 17th, 18th, and 19th in Ashland, Oregon.
Monologues revealing my story of losing my sister Carol are interwoven with the stories of Chad, a homeless marine veteran, and Lily, a Native American woman who answers when he calls into a suicide hotline. Live songs from an original score run through the play. This play asks us to take our life and live it, to do what we are uniquely called to do, for the sake of life itself.
The staged reading will feature Barrett O'Brien (Oregon Shakespeare Festival, American Dog Theatre Company), LaVonne Andrews (Days of Our Lives, Westworld), musician and actor Elias Alexander, and myself.
This staged reading will be filmed in preparation for larger grant applications to take this piece to the next level.
In the past 50 years—during my own lifetime--the rate of suicide around the world has gone up 60%. Every 40 seconds someone ends their own life. My sister Carol was one of them.
During those same 50 years, the rate of temperature increase on Earth has nearly doubled. Are suicide and ecocide connected? Why are we killing ourselves here on planet Earth?
Suicide is among the leading causes of death among young people worldwide. We lose 22 veterans a day to suicide. Native Americans have the highest rate of any group. More people kill themselves every year on planet Earth than die by war, murder, and natural disasters combined. As we watch the primary characters in this piece dare to choose life, my hope is that we each can more firmly resolve to take our own lives and live them for the sake of Life, for the sake of those yet to come, and dare to live the life that is uniquely ours. This play is my response to that call.